Practical information Amsterdam
Find practical information about Race Planet Amsterdam, including directions, opening hours and contact information.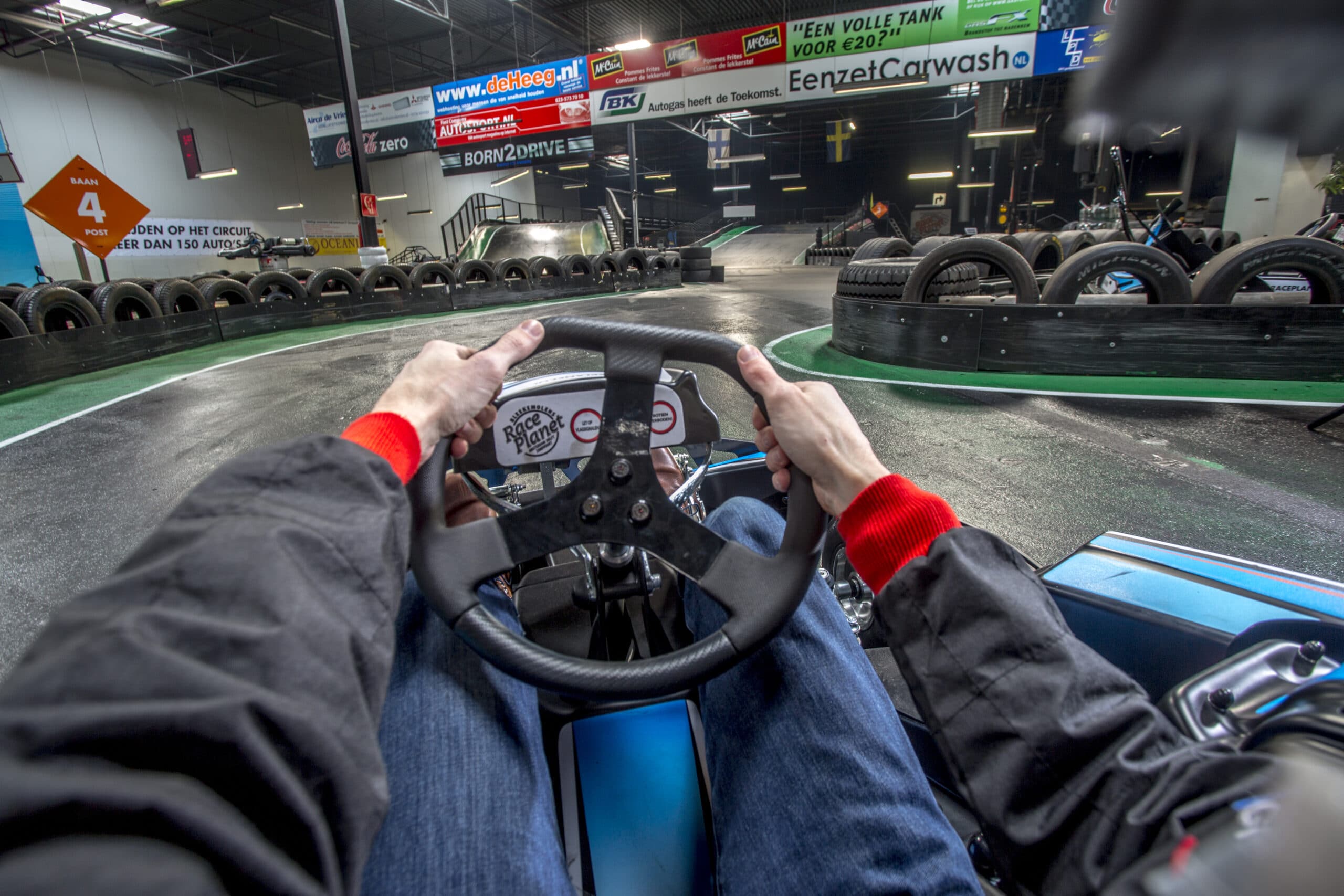 Route
By car:
Highway A5, exit 2 (IJmuiden/Amsterdam-Geuzenveld)
Parking is free.
Open in Google Maps
Race Planet Amsterdam
Address:
Herwijk 10
1046 BC Amsterdam
Netherlands
Opening hours:
Monday:

13:00 - 22:00 hrs

Tuesday:

13:00 - 22:00 hrs

Wednesday:

13:00 - 22:00 hrs

Thursday:

13:00 - 22:00 hrs

Friday:

13:00 - 23:00 hrs

Saturday:

11:00 - 23:00 hrs

Sunday:

11:00 - 23:00 hrs
Questions? Call during opening hours
Before your visit:
Make sure you are always on time. At least half an hour before the start of your kart heat. Have you booked a bowling alley or a laser tag game? Make sure to be here 15 minutes before the start. Don't underestimate travelling times – traffic jams occur often.
Free parking available at Race Planet Amsterdam.
Always wear firm, good-quality clothes. Regardless of the weather, you can only drive a kart if you're wearing long trousers and closed shoes. Participation in shorts and/or flip-flops is prohibited. Safety first! Unfortunately, we have no trousers or shoes for you to borrow.
You are required to wear a hairnet, which will be given to you at the start of the first kart heat.
If you wish to do so for hygiene reasons, you can bring your own full-face helmet and gloves.
You cannot bring dogs, except service dogs or guide dogs.
Entry to Roller Planet includes the use of roller skates (sizes 30 up to and including 46) and protection.
Any questions? Take a look at our frequently asked questions below.
Frequently Asked Questions
Menu
To enjoy your activity to the fullest, Race Planet Amsterdam offers refreshing drinks and tasty snacks. Take a look at our menu below.
View menu
Indoor playground
Inside Race Planet Amsterdam, you will also find Jimmy's Speelparadijs, which offers a fantastic day out for your children. Follow the link below for more information about this indoor playground.
More information
Roller skating
The groovy Roller Planet roller skating rink is an integral part of Race Planet Amsterdam. Click on the link below for more information about roller skating.
More information
Call me back
Would you like to discuss possibilities at Race Planet? Leave your phone number, we will call you back as soon as possible!
Want to find out what to do?
At Race Planet Amsterdam there is lots to do